Running and other bad habits
Haven't been getting as much climbing in as I used to, but the running in Pittsburgh, and formerly Boston, is great. So, to compensate for my lack of an up to date climbing page, here's a running page that soon will be out of date as well. Don't get all excited about it - I'm not much of a runner or triathlete, but I seem to enjoy them both. My page, my ego, you know the drill.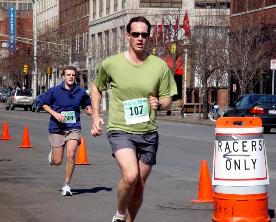 Running resources (links, books, etc.) have moved to their own page now.
Running in Boston
Various races
MITOC Adventure Race 2002 with Tonya Hseih and Owen Wood. Last minute team confusion nearly left us out of the race, but luckily, Tonya donated her skills at the last minute.



MITOC Adventure Race 2003 with Rob Jagnow and Becky Hopkinson.
The final writeup for this one isn't available, and we left the cameras at home. Miserable, cold, rainy day; one team ended up with hypothermia. Quite an experience. The Race details show the maps and the points. (But -- we finally won! :-)
Daniel's writeup is also online, with both poem and pictures.
Tiverton, RI triathlon [results] [Photos] . First real tri, tiny field (45 finishers). Lots of fun, and very educational. The 20 year olds all got killed by the 30 year olds.
Suffolk University Road Race A "5k" (actually 2.95 miles) along the charles. Scheduling this race the same day as a walk for alzheimers on the same course made for an interesting experince, but there were no collisions. New 5k p.r. (estimated ~19:00).
---
[angio.net] [running home] [personal] [climbing]
---