Dave Andersen - Personal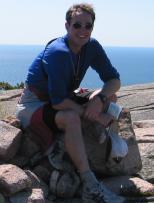 What's new
Quick Index
[CV: pdf] [Research and publications] [Running and Triathlon] [Climbing] [Dave Pics and Photo Album]
About me
I'm an associate professor of computer science at Carnegie Mellon University. (official page here). I went to grad school at MIT. I'm a climber and general outdoor freak, a taste I acquired in my first 23 years of life while living in Utah and attending the University of Utah. Since moving to Boston, I run more than I climb, and have a masochistic taste for things like marathons. Trying to get back into climbing more now that I'm in Pittsburgh and have a car again. I like networks, operating systems, security, and most other things that pass my way. I also have a peculiar fondness for cooking and sharing chicken stock recipes with my mom. Luckily, she's a much better cook than I, so the direction of information flow is fairly obvious.
For some strange reason, I got a biology degree in addition to a computer science degree. This doesn't mean I actually know anything about biology, but I still have a soft spot in my heart for it. These days, I do almost entirely CS things
Official things
Personal Interests
My livejournal blog and the older babble - musings, babble, etc.
The ugly but amusing Pi searcher (100 million digits can't be wrong). It may be odd, but it's in the Uselessness of Pi and Friends section of the Useless Web Pages.
Climbing, hiking, ice climbing, mountaineering, skiing, snowboarding, running and triathlon, and in general, getting myself in trouble with my friends from the MIT Outing Club.
---
[top] [research] [consulting]
Last updated: Mon Oct 17 20:24:34 MDT 2011 [validate xhtml]
dga - at - angio dot net.