Scary Pictures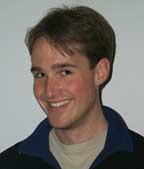 [Medium (12k)]
[Large (34k)]

"Vanity - my favorite sin"
--Al Pacino, The Devil's Advocate

[Dave in his natural habitat (14k)]




(Most of my photos can be found in the photo gallery).
Hiking the San Rafael Swell
Pictures from a canyoneering trip in the San Rafael Swell on Saturday, May 15, 1999 with the Wasatch Mountain Club, taken by Debi Bouchard.
Climbing
A lot of the Climbing photos were taken by John McCorquodale. He's got a bunch more in His Climbing Photo Gallery
---
[top] [research] [personal] [consulting]
Last updated: Mon Oct 17 20:24:34 MDT 2011 [validate xhtml]
dga - at - angio dot net.