A Crash Course in Sierra Skiing
March/April 2001

Skiers: Matthew Reagan, plus Paul Rozelle and Simon Karecki
---
I finally find the motivation to finish up things in the Boston area and begin my move to California and what happens? One of the snowiest winters on record! At least I got a taste of it, with January delivering some of the finest skiing I've ever experienced. Several trips to MRG to ski perfect powder on legendary terrain gave me skills I'll keep with me for a lifetime. A final ski vacation to Utah let me test out my powder skills. I didn't disappoint.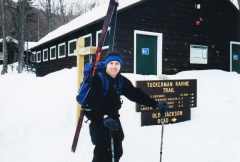 But, by late February it was time to go. I finished up my New England skiing career with one last run down the Sherburne, and this time did it on my "new" tele gear (left). My tele skills did disappoint, because this time the conditions were thoroughly horrific. High winds had scoured every last flake of snow off the trail, revealing nothing but old, frozen cat tracks and blue early-season melt-freeze ice. The soft, light Montets chattered angrily and did very little to keep me on the trail. We scraped our way down slippery straightaways and rutted steeps. I think I linked two turns somewhere near the bottom. Either way, we didn't go back for a second try!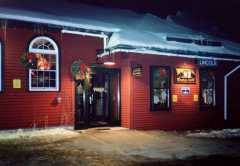 Of course, this gave us a bit of extra time to kill. We piled into my new Golf (1.8T!) and hit the Kancamagus for a little fahrvegnugen--with our real goal (for the day, if not the whole trip) being Woodstock Station (right). Over the last few years I'd accumulated tons of Inn Club points, both by stopping here after every western Whites hike and by dragging large Winter School groups through each January. I had lots of free stuff coming, and we got an early start. Susan joined us for dinner, we played lots of NTN trivia, and a good night was had by all.
Later that week, it was time to go. The movers shipped my stuff, I said goodbye to my home in Boston, and began a long drive across the USA. Rest stops in Allentown and Philadelphia, plus overnight pit-stops in various places across the country, stretched the trip out over eight days. Then, I spent two days looking for apartments, a week getting oriented at a new job, and then another day moving in to a new place. I was tired, stressed out, and stiff from three weeks of inactivity.
So I went skiing.
My introduction to the Sierra (aside from a drive through Donner Pass to enter the state) was at Sugar Bowl. It was easy to get to (right off I-80), and SkiVT-L lister Tom Moore had recommended the place a while back, so I figured it was a good place to start my orientation tour. I got there early on March 11, and was greeted by the first "Parking $20" sign I'd ever seen. After a brief moment of panic, I realized that was only for the covered valet parking. Phew. Didn't matter, though, since even at a "small" ski area, the lift tickets were still $52.
An experienced gondola hauled us from the outer parking to the main lodge, and soon views of crinkly cliffs and steep chutes opened up before us. The main lodge had an old-style luxury feel (this was a 30's-era resort , after all), but modern fast lifts led up to well-groomed trails. The weather was typical California: hot sun. A cold wind blew in from the eastern deserts, however, and the upper ridges stayed frozen despite the fierce solar assault. I took a conservative appraoch, sticking to blue groomers while waiting for the steeps to soften up. They didn't, but the sun was quite nice. I toured the lift system, checking out sick lines on The Palisades, bowl skiing on Mt. Judah, and subtle hints suggesting good tree skiing. Sitting on the sun deck, drinking real TaZoTM Earl Grey ($2), and watching expensive-looking folks enjoy the amenites made for a relaxing afternoon.
The drive home through Sacramento sucked, though. I realized that I had a lot to learn about California traffic patterns.
The tour continued the following weekend. I had received an All-ASC voucher back in December when thunderstorms chased us off Sugarloaf. How better to use it than at the extremely expensive Heavenly? A drive up the more relaxed and rural US 50 brought me to the tourist strip on South Lake Tahoe and finally to the lower parking lots of Heavenly just before the Nevada border. Heavenly has many parking lots, and I soon realized that I'd picked the one farthest from anything. OK, fine, I suppose taking the lift-system tour first thing in the morning would be a good way to learn my way around.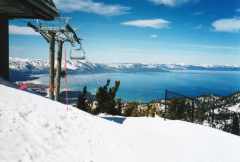 Heavenly is in an amazing location. Straddling the NV/CA border, with skiing on both sides of the Sierra Crest, the views are amazing (left). The terrain was a bit over-processed, I thought, although the slushy conditions limited access to the more interesting stuff in Mott and Honeycomb Canyons. While wide groomers packed with Perfect-TurningTM vacationers ruled, several large gladed areas lurked just outside the well-beaten track. Nobody seemed to know what was in there ("Ski in the trees? Isn't that how people get killed?"), which probably means that this would be good terrain to hit after a snowstorm. What really impressed me was the sundecks. I don't know how I lived without Meat roasted on Fire, served with local microbrewed beer (Maerzen or Pilsner), and eaten outside in the warm sun with a view of Lake Tahoe. College women skiing in nothing but their performance base-layers was rather nice, too.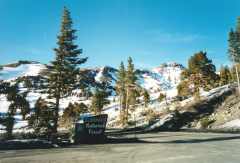 I did a good deed later that day by helping a nice woman recharge a dead battery. She had come up to me looking to see if I had a cell phone she could use, and was shocked to discover I had jumper cables of my own, as well as all sorts of tools, right in my shiny new car. I told her that a lot of people in New England carry that sort of stuff in the winter. She was puzzled. Of course, her SUV was one of the sort that didn't have real 4WD, either. It had leather, instead, as well as a video screen to keep the kids entertained. California survival gear? I took the long way home, driving up through Carson Pass (right) to check out some backcountry options and see if Kirkwood was really only 140 miles away from Livermore. It was.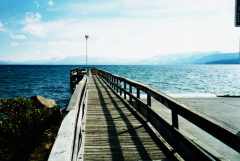 Kirkwood would have to wait, though. A week later, I decided to pay a visit to my old MITOC friend Rebecca, who had moved to Truckee after hiking several hundred miles up the PCT back in 1999. She's now, among other things, a ski and snowboard instructor at Alpine Meadows. A took a leisurely trip this weekend, touring the area around Truckee and Tahoe City (left) before tracking down Rebecca at Alpine. Rebecca and S.O. Jan graciously offered me a place to crash for the night (A rented house in the woods costs about as much as a 2BR apartment in Boston--is this a good deal?). I even got a quick tour of Truckee, which had plenty of high-end eating and shopping to keep you busy and light in the wallet. Vermont this is not--there's not even the pretense of this being a rural area. Tourists rule, dirtbags drool. No brown-bag lunches, please.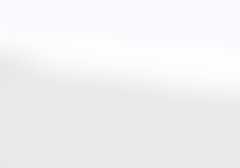 Alpine was great. Less attitude, a real lodge for dirtbag brown-baggers, and tons of sick skiing. You can ski the bowls around the main valley, or wander off to the south and west facing terrain of Scott, Sherwood, and Lakeview. The lift tickets were still out of sight, but the focus on serious skiing and efficient lift transport made up for it. The sun was really hot this time, and I steamed and roasted in a long-sleeved t-shirt. SPF45 didn't cut it. My trusty blue wax, great for the typical 20oF Vermont afternoon, failed miserably, and I had to invest in a bottle of spray-on snowboard wax to keep my sticks from sticking. I started the day on tele gear, but soon switched back to alpine as the gloppy snow sent me over the tips one too many times. Runs down Sherwood Cliffs and The Chute That Seldom Slides (?!?) proved to me that this was the place to hit in North Tahoe.
Then, work got in the way. Two weeks later, however, a late winter storm plowed into California, bringing rain, cold temperatures, and (to the horror of Bay Area residents) a trace of snow at the tops of the coastal hills. I rounded up two co-workers and a 4WD vehicle and headed to Kirkwood, the closest ski area to Livermore and supposedly one of the best. Yep, they got snow. They got the 12" forecast, plus 12" the night before, plus 12" while we were there. Cold, dry powder poured out the sky, chased California skiers into the lodge (or sent their SUVs into guardrails and trees), and covered tracks as fast as we could lay them down. We focused on the avi-safe Sentinel Bowl, following twisty streambeds through tall Ponderosa pines and finding knee, waist, and chest deep powder on demand. Pictures? It looked something like the view on the right. Who needs visibility when everything's under three feet of powder?
(Yes, once again, that's not a real picture. I may have had my camera with me, but who has time to shoot photos on a powder day?)
I went back the next week to enjoy the same powder baked down to corn. I wasn't disappointed. This time, I spent the whole day on tele gear, and had the breakthough experience I'd been waiting for. Yes, you can cruise on light tele skis! I went back the following weekend as well. Another storm had blown through, but this one was a little warmer and the powder was a bit heavy. Still, who's gonna complain? (Left) Then, at 10am, the sun come out. By 10:05am Sierra Cement was in full force. I swear you could hear a single, loud whumpf as the new snow compacted into a thick layer with the consistency of stale brownies.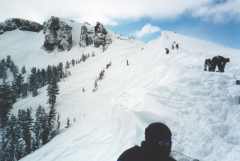 Still, I needed adventure, and with snow this heavy I was safe from any long slides-for-life. I shuffled my way left from the top of the Cornice Express, and searched the cornice-lined top of The Wall for an opening (right). After dealing with a few incidents of poor traversing manners (as if folks out here ski with manners!), I found a hole. A well-defined gap in the cornice lead to a 2-3' drop onto the 40o headwall of The Wall. Not extreme by, say Paradise standards, but the additional exposure made me nervous. I need trees. I got myself organized, took a few deeps breaths, and launched.
Thud!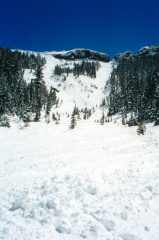 So much for the powder. The brownie-like crust was knee-level here, and despite landing just off the fall line on a 40 degree slope, I was stuck fast. This has to be the steepest aspect I've ever stepped and poled out of. Once in the trees, I found uncooked powder, and followed it into a series of steep gullies that funneled down into The Drain, a large stream-bed halfpipe that gathers up all of the steepest Wall runouts (left). From here, it was packed-pow and slush cruising though beautiful woods all the way back to the base.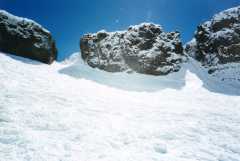 I made several more visits to The Drain that day, hitting three of the main chutes that pour into it. If this isn't entertaining enough, braver skiers have access to chutes above the Drain, including Notch Chute (right). For some perspective, note that I'm standing on a 40o aspect and pointing the camera upward to get this shot. I didn't check out the run myself, but seeing how much snow poured out of the notch before each skier appeared, I'd guess it was a one-shot deal.
As the day got sunnier, the snow got nastier, and I found myself calling it quits at 3pm in a very California fashion. Chicken Satay skewers and Sierra Nevada on the sundeck--I could get used to this. Yuppie bastards still suck, but at least I now have the cash to enjoy some of their goodies.
My tour ended with one more visit to Alpine a week later, making April a solid ski month. Now, the goal is to keep it going! I started this season in November, and feel that I shouldn't end it until October. I'll see how it works out. As for the Sierra, I really see some promise here. The weather's nice (too nice, sometimes), the steeps are, well, steep, and the snow is (usually) plentiful. With the economy heading down the tubes, the prices might stop going up, too!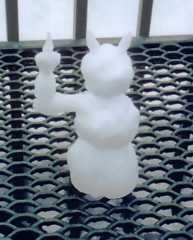 I only need to develop the proper attitude (right).
More to come.

Photos by Matthew Reagan
---