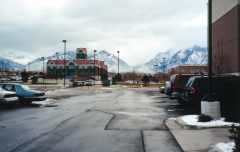 The Suburban and the Supreme
Sandy, Utah, where some of the best skiing in the world sits right next door to some of the worst suburban sprawl in the world. That's city hall in the center of the photo. Gas up the SUV and turn on the lawn sprinklers--it's time to go skiing!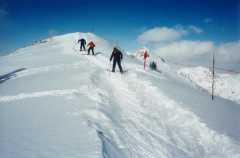 Earn Yer Turns
Some of the best stuff at Alta requires a bit of a walk. Here, skiers climb up to East Greeley and Glory Hole. At 10,000', this isn't as trivial a hike as one would think for a bunch of flatlanders like ourselves.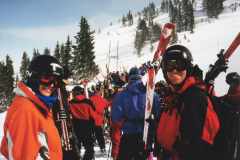 Some things are worth the wait.
Lining up at the gate to Devil's Castle, which was about to open after three days of snowfall. I'd show you pictures, but the chance to bomb down a mile or so of wide-open bottomless powder made me forget all about my camera. Oh yes, it was that good.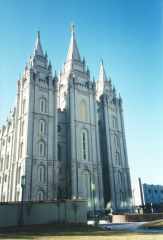 The Salt Lake Temple
Brigham Young or don't brigham at all.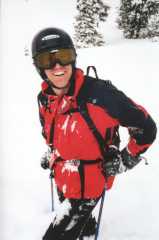 "That's good snow."
Upon arrival at Alta, Paul appreciates the Utah difference.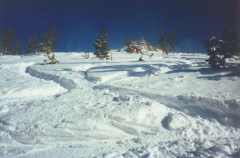 Powdah
Paul lines up for a steep and deep run. The messy track is mine, generated as I snagged a ski on buried underbrush, faceplanted, and rode a nice 10'x50' slough down to the traverse-track.

.

Mwoh Powdah
Paul gets all of it.