A Road Trip Across the USA
February/March 2001

Driver: Matthew Reagan
---
As described in other sections of this web page, in February of 2001 I finally realized that it was time to move. Not that I wasn't happy living in Boston, and not that I was restless and felt the need to try something different, but career-wise it was time to move on, if only for a few years. To make the best of the situation, I decided to approach it as an adventure. I had a new, highway-worthy car, the promise of a real paycheck, and about ten days to make the trip. I had recently read Bill Bryson's I'm a Stranger Here Myself and The Lost Continent, and I had some idea what I was in for. Having been raised in the urban Northeast and having lived in cities all my life, I expected America to be a bit of a cultural adventure. Yes, it was.
---
The trip started immediately after the movers left Westland Av. It was late afternoon, my half of the apartment was empty, and a terrible realization came over me--it was time to go. Rather then drag out the process and have to deal with the thought of leaving home for a few years, if not for good, I got my driving underway as soon as possible. In retrospect, this wasn't a great idea. It did keep me from getting too sentimental about things, but I was driving south into a coastal snowstorm.

It wasn't my driving I was worried about. With a new car full of safety features like antilock brakes and traction control, my extensive foul-weather driving skills were more than enough to deal with a few inches of slush. As usual, however, the driving skill of others were not up to the same standard. I hit my first trouble on the Hutchinson Parkway in NY. I cruised along safely at 40mph, while dozens of cars sped by, only to slip and slide at the next sharp turn. I gave up on the Parkways and headed north and west on I-287, hoping to get away from the coast and away from the heaviest snow. I did get away, but the cumulative effects of the rush-hour dump had paralized the greater NYC area. Traffic blocked the plows, which allowed snow to accumulate, which caused cars to get stuck, which blocked further access for plows. Stick a fork in us--we're done. I spent the night in an overpriced hotel room in Suffern, NY (or some other upstate suburb).

The next day dawned clear and sunny, and I was on the road by 6am and home in Allentown, PA a little after eight. I spent a few days in Allentown to say goodbye to my family, then drove down to Philadelphia to say goodbye to another dear friend. Then, with all the goodbyes said and the car packed, I headed west on the Pennsylvania Turnpike. Somewhere near Harrisburg, a billboard advertised:

San Francisco: 2796 miles

It was referring to some sort of truck stop, but the clear statement of my goal was entirely appropriate. I made it to Wheeling, WV that night and stayed in a nice hotel just behind the rocky ridge that bounds the Ohio River. The downtown area seemed nice enough as I cruised though looking for possible food and drink, but the friendly hotel staff suggested that I avoid returning. "They don't like folks from out of town," I was told, and all the riverfront glitter covered a fairly seedy and dangerous neighborhood. Sigh. We're not in Boston anymore, are we?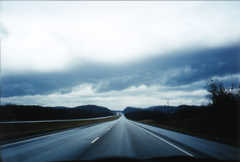 Over night, some rain moved in, washing the accumulated grime off my still-unblemished car. I hit the road at 6am, and drove over the Ohio River into Ohio the State just as the sky began to clear (right). So began a long and tedious day of driving.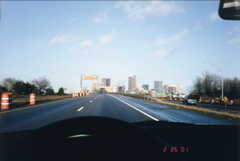 I reached Columbus in the clear light of a beautiful Sunday morning (left). While stopping for gas, I searched for my typical truck stop refreshment of tea with milk and sugar. Here, in Columbus, culture shock first hit me. They had tea, although it was that orange Lipton stuff. They had sugar, of course, but there was no milk dispenser. Hell, there wasn't even a bin of those half-n-half shots. All I found was a three-tiered bin of paper packets--filled with something called "whitener." Why would I want that in my tea? It was either acidic Lipton or "whitened" Lipton, so I dissolved some of the lumpy power into my hot drink. Now, I began to miss home. All of the Irving gas stations I once frequented always had nice fresh milk taps and a choice of teas like English Breakfast or Earl Grey. Out here in middle America, they just had whitener. What the hell do they use all those cows for if they can't offer a visitor some decent dairy products? The clerk at the counter, seeing my confusion, gave me the tea for free. Bill Bryson was right, people out here are friendly and good-natured--in a bovine sort of way.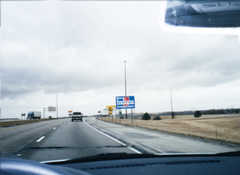 Ohio melted away into a monotonous blur of rolling hills and waving grass. Then came Indiana (right), which made Ohio seem much more interesting. It was an endless parade of grass, billboards, farming paraphenalia, and the occasional stand of trees. Pretty, yes, but not enough to break the monotony of the drive or to provide landmarks or measures of progress.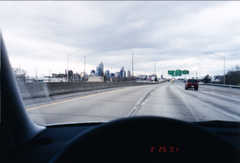 Indiana soon gave me Indianapolis (left). Out of the flattening midwestern plains, the tall buildings and variety of radio stations were an oasis. Of course, most of the radio stations played country and western, but I soon found my lifeline: NPR. As the cultural landmarks I knew so well disappeared behind me, the voice of NPR kept me connected with the world of the Liberal Cultural Elite. I was impressed that the reception out here was more consistent than anything I'd found back home.
As for Indianapolis, it looked like most newer American cities: a high-rise core, surrounded by industrial wasteland and urban blight, wrapped tightly by a belt highway, with more affluent suburbs all around. People seem to like this sort of thing. I don't know why.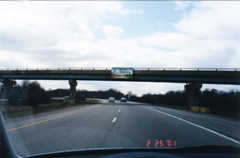 West of Indianapolis, the flat plains of the Midwest swallowed me completely. Crossing into Illinois (right) provided a landmark, but nothing to see, really. It was some time before I was coughed up on the shores of the Mississippi.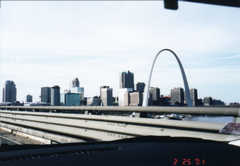 The famous Gateway Arch (left) greeted me as I crossed the Great River and reached the Real West. I'd been to St. Louis before and found it to be a rather dull place by urban standards, so aside from taking a rest stop on the banks of the Mississippi, I kept driving. One new thing: I-70 though the city had been renamed the Mark McGuire Expressway. The McGuire took me past the airport through heavy afternoon traffic, and sent me sailing across more empty plains at the new (for me) 70mph speed limit. NPR was broadcasting Car Talk, which kept me entertained and soothed me with sweet Bahstin accents.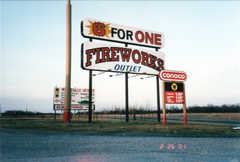 I don't remember much about central Missouri, except for this photo of the gas station I stopped at (right). I regret that I didn't stock up on fireworks. Six for one...what a deal!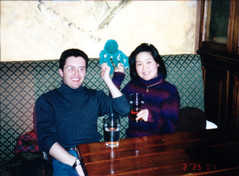 The day ended with comfort, friendship, and civilization as I drove into Kansas City at sunset. I met my friend Yumi, an MIT graduate who is currently attending graduate school and studying music composition at the University of Missouri at Kansas City. We had dinner at a perfect little Irish-style pub in the Country Club Plaza shopping district (left), joined by our old friend Octopussy (who misses her old flame The Octopus but refuses to admit it).
I crashed at Yumi's place that night (it was good to avoid hotels, even though my new employer would pay for it). Once again, I was up bright and early, and hit the highway just before the morning rush. My search for hot tea was getting rather difficult, though. I crossed into Kansas a few blocks from Yumi's apartment (into Kansas City, KS), then stopped at three fast-food joints looking for tea. They all had iced tea, but looked puzzled when I asked for hot tea. Oh man, this is going to be a rough trip.
The day was a blur. I found tea at a rest stop on the Kansas Turnpike (with whitener, of course), then set out across a bleak, flat, featureless landscape. It was flatter than flat. I might as well have watched six hours of a looping video featuring cornfields, a silo, a farmhouse, and a watertower. Repeat. After the third repetition of the week's Prairie Home Companion, even NPR got annoying. I passed Russell, KS, the birthplace of Bob Dole, and stopped for lunch in Hays. Suddenly, I had a cultural revelation. I was thrilled to see a Wendy's! I even had an urge to stop in the Wal-Mart next door. Now I understood--Wal-Mart and fast food aren't #1 in the US because they're good, they're popular because they are the only game in town for most of middle America! The Wendy's was packed with people of all ages, hanging out in groups and chatting happily over items from the Super Value Menu. What else is there to do in Hays, Kansas? In Boston, we had Cornwall's. In Hays, they have Wendy's. Who am I to criticize?
I-70 stretched out across the vast nothingness of western Kansas, and a dull overcast rolled in and made it even more monotonous. Things improved as I crossed into Colorado, because the sun came out, and occasional rolling hills broke up the flatness. In fact, the golden fields were quite beautiful in the afternoon sun. Unfortunately, I lost contact with NPR momentarily and had to scan the dial for other distractions. I stumbled into the cesspool of Colorado radio. Here I experienced the vilest excesses of radical religious-right hate speech. One station had tips for avoiding the upcoming tribulation (brought on by a dot.com crash). Another station ranted on about how scientists and college professors were poisoning our youth. The worst talked about necessary "cultural warfare" and how the shooting of abortion clinic doctors was illegal, but biblically justified. Oh, and praise Jesus, too!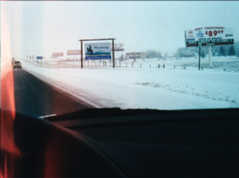 I stopped in Denver to visit an old friend, then started out early the next morning. A light snow had fallen, covering I-25 and slowing traffic from Denver to Cheyenne, WY (right).
Factoid: Wyoming, I've heard, was named after the Wyoming Valley in Pennsylvania, home to Scranton and Wilkes-Barre. This is not as interesting as the fact that Portland, OR was named after Portland, ME. If a bet had gone the other way, it would have been named Boston.
After all of the dull bleakness of the Great Plains, Wyoming was wonderful. A few inches of new snow covered the rolling plains, and as the sun peeked out from behind the clouds, I saw views that really did look like something out of a Western. Now on I-80, I crossed the Medicine Bow mountains as sunshine battled it out with light flurries for domination of the day's weather. I crossed the Continental Divide on a relatively flat plain at over 7,500', then descended slightly to Rock Springs, where I had lunch. Again, it was fast food, and again, it was a welcome sight.
Wyoming finished with one more mountainous stretch, taking me through Evanston, past Flaming Gorge (which I wanted to see but didn't have the time to experience), and into Utah. I'd just been to Utah a few weeks earlier, but arriving there by car was a different experience altogether. I passed Park City, drove through Parley's Summit, and circled Salt Lake City via the beltway. I knew this was the correct route, thanks to watching the local SLC TV stations a few weeks before and learning that the I-80/I-15 interchange was partially closed. I found a really cool truck stop just west of SLC.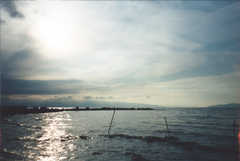 I headed west from SLC just as the afternoon began to fade. I pulled off at some random exit to check out the Great Salt Lake itself (left) which is indeed extremely salty and rather smelly, too. From there, I rocketed west, past Tooele, and into the first real desert I'd ever seen in my life. It was dry, flat, sunny, and very brown. The bowl-shaped geometry of each valley let one see the twenty miles of road ahead, and such a view revealed that very few people drove this way.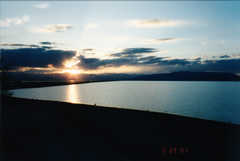 I sped across the desert on a ruler-straight interstate highway., with only the occasional glimpse of salty water to the right to break up the flat brown plain. Brown mountains capped in white snow walled this wasteland off from the civilized world (or Salt Lake City). As the sun began to set in the West, I stopped at Bonneville Salt Flats, still flooded with shallow water from the winter rains (right).
As the sun set, I caught sight of the lights of Wendover. Wendover, UT had an Air Force Base and a few very cheap hotels. Wendover, NV had bright lights, high-rise casinos, porn shops, and live entertainment of all sorts. I grabbed a $19.99 Motel-6 room and found more fast food for dinner (even in a "resort" town, there wasn't a decent restaurant). I wasn't up for casino entertainment, but I cruised the strip anyway to see what they had to offer. Low-end vice for repressed Utahns was about it.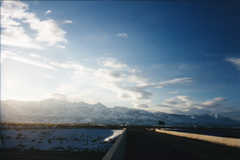 I made it onto the highway before sunrise the next morning, fortified by yet another cup of Lipton with whitener. I was getting used to it, really. A few miles outside of Wendover, I crossed the first of many Nevadan mountain ranges and entered the Pacific Time Zone, making it seem even earlier. Nevada was beautiful, in a bleak sort of way (left). The sun rose behind snow-capped mountains, revealing nothing but desert and more snow-capped mountains. Some of these desert basins lacked a town or any sort of stop-off. For the photo, I pulled off at some numbered exit and found only an unmarked dirt road heading north and south. "Next services N miles" was posted at each town, with N being less than 100 but seldom less than 60. A half dozen mountain ranges brought me to the first real population center, the town of Elko, NV. Here they had a busy Main St., lined with bars, restaurants, shops, and dozens of casinos. Every business in Nevada has a casino built-in--even fast-food restaurants have a few slots in the corner. I had a very good traditional breakfast at a large old-style diner. The diner adjoined a full-service casino, and as I wandered to the back to search for restrooms, I found that such places actually did respectable business at 8:30am on a Wednesday morning. Why did it matter? There were no windows, no clocks, and the bar was open, so why not gamble?.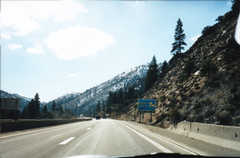 I-80 went from Elko to Winnemucca, yet another town with truck stops and slot machines, and from Winnemucca to the Edge of Civilization. Endless desert, broken only by a few dry or salty lakes, lined the highway for hours and hours of high-speed driving. I drove into glitzy yet geriatric Reno by lunchtime, did two loops around the downtown strip, and retired to yet another fast-food joint on the edge of town to get away from the hoards of retirees. It wasn't Vegas, that's for sure. Then, I drove the last 15 miles into the Sierra foothills and reached California (right).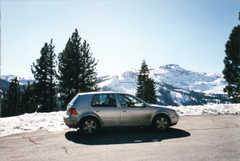 I passed through the agricultural checkpoint, where I delighted the inspectors by being the most distantly-registered car through the gate that day. I pulled off at the first rest stop and "Vista Point" to snap a picture of myself and my car (left) at Donner Summit.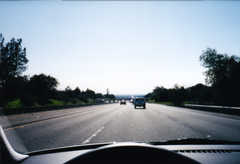 It was California, all right. As I started down the long grades of the western Sierra, the sun got hotter, the temperatures rose, and for the first time my air conditioning kicked in. It had been in the teens in Nevada that morning, but as I approached Sacramento the green leaves of the California winter opened up in front of me (right), along with the brown haze of California car exhaust. I realized the true nature of "that California smell" I'd noticed in my two previous visits--it was tailpipe fumes. Mmm.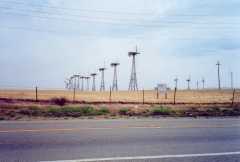 I-80 gained lanes and accumulated cars, and I sat in my first California traffic jam at the I-5 interchange. Down I-5, past orchards and fields of growing things, over man-made canals and channels, past the shipping port of Stockton (ocean freighters 50 miles inland?!?), and up the coast range hills past the windmills of Altamont Pass (left).
I guess I was home now. Livermore looked quite nice in the winter. The normally brown hills were still green from the winter rains. A fog bank loomed to the west, spilling through Dublin Canyon from the Bay to chill the folks in Pleasanton. I checked into my hotel and began the long process of settling in.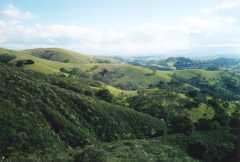 I took a few tours of the area soon after arriving. The Livermore highlands, just north of the city, presented an amazing landscape reminiscent of northern Italy (right). Winding roads through the area offered all sorts of pleasure-driving opportunities as long as one avoided shortcut-seeking commuters.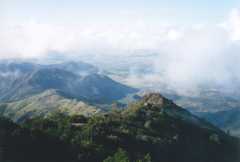 To the north, the highlands rise up to the peaks of Mt. Diablo. At over 3,800', this mountain looms over everything and even accumulates snow in the warm Bay Area winters. The summit provides excellent views of San Francisco, the bay, and the Altamont hills leading down into Livermore (left).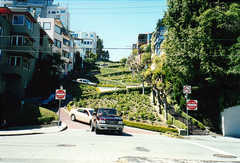 I even drove into SF itself to see all of the tourist sites while I was still more of a tourist than a local. Everyone wants to see Lombard St. (right)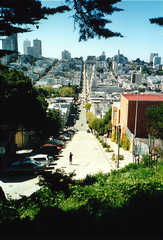 The view from Telegraph Hill into North Beach is rather nice, too (left).

A week later, I'd moved into a new apartment in exciting Livermore, giving up plans to live closer to the city in return for initial convenience and access to a new job. Suburbia is clearly not my cup of tea, but at least I found a nice place with reasonable access to everything the Bay Area has to offer. I'm glad I had this cross-country experience. Seeing how most of America lives made me appreciate the civilized lifestyle I could get here in the land of freeways and rolling blackouts. Sure, it's not Boston (it's not even Philadelphia), but at least the StarbucksTM in the shopping center next door will sell me Earl Grey with whole milk.
How's it going? Other trip reports and photo albums tell the story!
Photos by Matthew Reagan
---