Castleton Tower Trip Report
Route Summary
The Kor-Ingalls route up Castleton Tower is a very enjoyable 5.9-5.10ish climb up a stunning wingate sandstone tower. It has a delightful mix of crack, face, and chimney climbing with an approach long enough that the successful ascensionist will definitey feel that they received their money's worth. This climb is rated 5.9 overall, but the ratings are definitely in "classic" terms. A budding 5.9 leader would most likely not enjoy the third pitch. The views from the top of the tower are breathtakingly beautiful.

Chad and I climbed the tower as an after-work trip, driving to Moab on Tuesday night, climbing Wednesday morning, and returning in time to get some work in on Wednesday evening. Chad led pitches 1 and 3, I lead pitches 2 and 4.
Details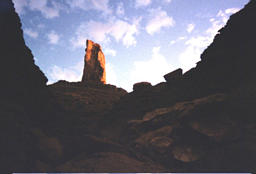 Route
The Kor-Ingalls Route
Difficulty
III 5.9
Weather Info
NWS-Arches
Date
July 21, 1999
Climbers
Dave Andersen, Chad Lake
Nice Rack
Set of medium and large nuts
Camalots: #1, #2, #3, 2x #4, #4.5, #5
Hexes: Some smaller hexes proved handy.
Log
Saturday, Jul 17, 1999
It started out so innocuously. The phone rang while I was cooking dinner. It was Chad, who barely bothered to say hello before blurting out, "Let's go do Castleton. We can take off after work on Tuesday, climb early Wednesday morning, and be back by the afternoon." I enthusiastically agreed to this idea. After a few hours of thinking about the meaning of a 5.9 classic, I started to wonder to what kind of sick expedition I'd just pledged myself, since this was my first "Classic" (of 50 Crowded Climbs fame), and my first desert tower. One guidbook mentioned helpfully that, "The third pitch is the crux, ascending an off width corner past some manky bolts."

I did not sleep well this night.
Sunday, July 18
Picked up a #4 Camalot at REI. Yow.
Tuesday, Jul 20
Got stuff packed, prepared to head down to Castleton.

5:30pm: John drops by with a cheerful word of support. "So, excited?" "Er, hectic. I haven't finished everything I need to before I leave. But I'm psyched." At this, John grinned, and asked, "Want to know the best part? It's supposed to rain." A quick panicy check of the national weather service page indicated only a 20% chance of rain tomorrow afternoon, which with any luck, will hit after we're off the tower. I can hope, at least.

6:30pm: Chad arrived in my office, complete with a strange email from "[email protected]" suggesting that it was time to leave. With another quick stop by the store (can't say no to a cheapo disposable camera for taking awful pictures of a beautiful climb), we were off. Our three-hour time from Salt Lake to Moab may not make us popular with the local law enforcement officials, but it certainly had us smiling. After a quick stop at the spring on River road to fill up our camelbaks, we headed down the road to Castle Valley. Astoundingly, we took all of the right turns on the way in, and arrived at the campsite for Castleton Tower at around 11:30.

My string of luck ended with the driving, however, when I realized that I'd forgotten a sleeping pad. There's little in the way of sleeping arrangements that I've discovered so far that's more uncomfortable than sleeping in a too-warm down sleeping bag on some sharp rocks in moab. But then again, I don't bivvy on walls, either.

In short, between discomfort and excitement, I did not sleep well this night, either.
Wednesday, July 21, 1999
The morning crept in entirely too slowly, but at last, the alarm chirped 5:15am, and Chad and I both sprung out of bed to get ready for the climb. Racking for the climb was simple (#1, #2, #3, #3.5, #4, #4, #4.5, #5 Camalots and a set of stoppers), and breakfast was meager (a granola bar for me, and some fairly gross looking chocholate covered espresso beans for Chad), so we were on our way on the approach by 5:40, when the sun was just starting to warm up the sky on the east, in a little notch between two cliff bands.

The guidebook mentioned the "extremely obvious maintained trail," so we figured we couldn't go too wrong. We followed a road through the wash by the campsite, and within minutes, Castleton Tower was in view. From this distance, it looked surprisingly small. I hadn't yet realized that we had over an hour and a half of hiking left before we reached it. Eventually, we took a wrong turn on the not-so-obvious trail, and with the tower growing incresingly large in the distance, began scrambling up the approach slope. With the exception of a tennis-shoe'd 5.4 crack we had to ascend because of our poor route choice, the approach went smoothly, though somewhat tiringly.

After too much hiking, we reached the base of the tower. For a dinky-looking free-standing tower, this is one immense rock. Four hundred feet looks quite a bit larger when you're staring up at it, and those cute little cracks you can see from the road suddenly take upon a rather chimney-like appearance. I started to get intimidated.

Chad racked up, and began the first pitch. The climb begins with about 10 feet of a picture-perfect handcrack, and my hopes rose, but were quickly dashed by the grunting noises coming from a large chimney which followed the hand crack. I followed with considerable difficulty considering the 5.5 rating of the pitch, but arrived at the belay ledge with a smile, and much sweat. The moral of the first pitch seemed to be, "do not try wearing a camelbak."

My memory fails me with the second pitch, because most of my recollection of it was pounded out by the extremely intense third pitch. What remains is a haze of satisfying 5.8ish climbing with some good jams, some offwidth, some better-than-expected face holds in the beautiful wingate sandstone, and walking my last #4 Camalot up a wide crack. Soon after I arrived at the belay, I looked at pitch three. Did I mention that Chad was going to lead this pitch, and I was extremely happy thereby?

Chad took the sharp end for the third pitch, which began with an offwidth dihedral accompanied by some beautiful face holds. We even picked up a new quickdraw from some hapless soul who had climbed the pitch in days gone past.. While this part of the crack looked and sounded difficult, it wasn't yet the crux. Chad discovered this about 50' up the pitch, where the crack turns into a pure offwidth. This section can be liebacked, but due to the slick coating of calcite on the "foot" part of the dihedral, you have to get your feet veerrrrry high to stick. Fifteen feet of this had me gasping, and even more impressed with Chad's lead. The pitch then widens up to another chimney section which offered some well-needed no-hands rests, and then spits you out to a belay ledge.

After sitting for an embarassingly long time at the belay marveling at the third pitch, I lead the fourth pitch, which is a mellow, perfect sized and featured 5.6ish chimney with some easy face moves to the summit. Upon arriving at the top, I was greeted with the incredible view from the top of Castleton Tower (which I selfishly savored for a moment before belaying Chad up). It's difficult to describe, so peek at some of the pictures, and then remember that you're on top of a 400 foot pillar of stone, which is itself about 1200 feet above Castle Valley. The view of the Rectory/Priest and nuns is amazing, and the entire valley is surrounded by high rock walls at the same elevation as the top of the tower. The only word I could utter for some time was, "Wow."

As we both reached the summit at around 11:15am, we saw clouds beginning to gather to the east, so we scanned through the summit register, scribbled some notes, and then had a relatively uneventful trip down. (The rappell can be done in two double-rope raps, if you don't mind downclimbing some 5.2 at the very end). We were greeted by distant thunder as we descended the large gravel mound which supports Castleton Tower, but fortunately we managed to avoid any rain. On the way down, we followed a surprisingly well-cairned trail which deposited us with a minumum of effort and erosion at our campsite. We're not exactly sure why we missed it on the way in, but the current hypothesis has to do with espresso beans. We were greeted at the end by some visiting climbers from Taiwan, whose first question was, "How is the third pitch... the one with the offwidth?"

As I mention in the route summary, this is a delightful climb. Take some big gear and lots of film.

Maps
Photos
You can see All of our Castleton Tower photographs, or you can click on many of the images contained herein to see the full versions of them. Here are also a few links to other people's pictures of Castleton Tower:
Other Castleton Info
---
[top] [research] [personal] [consulting]
Last updated: Sat Mar 12 13:03:19 MST 2011 [validate xhtml]
dga - at - pobox dot com.