Pinkham Notch
Checking the avalanche conditions with Jessica and David Neu.
The pitch ranges from 40 to 50 degrees for 800 to 900 vertical feet. A well-travelled boot ladder helps.
Skiers ascending past the remains of a recent cornice. The first few turns are always good for a thrill.
After a steep start, the run narrows to a 40-45 degree shot between high rock walls. Excellent corn snow and minimal traffic made this [another] run to remember.
After a long climb and some great turns, it was time to sit back and watch the antics of skiers on the Lip. This day's feature acts included two daredevils jumping the ice flows on the Headwall, and two kids on inner tubes getting massive air off old slough debris.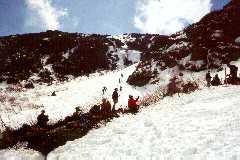 Base of the Bowl
We set up our base camp at the foot of the Chute, well away from the risk of falling ice (and falling bodies) on the right side of the bowl.
A member of the Mt. Washington Volunteer Ski Patrol shows us how it's done.
From the top of Left Gully, views open up across the Alpine Garden and toward the summit of Mt. Washington. Warm weather and rapidly melting snow made skiing between the summit snowfields and the ravine impossible.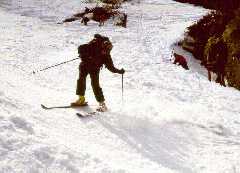 Jessica rips through the crux of the run.