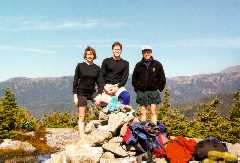 Mt. Isolation
Susan, Paul, The Octopus, me, and the Southern Presidentials. October 1999.
Along Rt. 99 between Vancouver and Whistler, January 1999.
Matthew D. and Simon ascend the slide to the most remote 4000'er, with Lafayette in the background. October, 1998.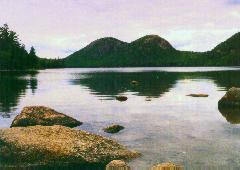 The Bubbles, Acadia National Park
On a dreary day, from Jordan Pond, June 1998.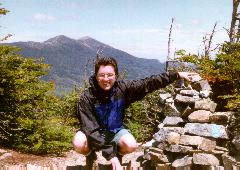 Franconia Ridge, from Flume summit.
Here I add a few inches to the 4328' already there. The wind made standing up impractical. May 1998
Randy, me, and Karen Willcox on the summit of Jackson. July, 1997.
Here is a peak-bagger shot of Randy, Laurie Nazzaro, and myself on top of Lafayette, with the Pemigewasset Wilderness in the background. October 1996.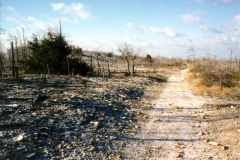 Not Pristine Wilderness
Something different: a hike along the Appalachian Trail between Lehigh Gap and Little Gap. Years of heavy-metal processing in nearby Palmerton have killed off all of the vegetation. Signs warn hikers not to camp, stop, eat anything, or drink anything. December, 2000.



Team Tester: Kicking More Ass
At Madison Hut on a wild and windy day. Including: Mike, Audrey, Anish, Joanna, Josh, Quico, Me, and Freddy. August 1999.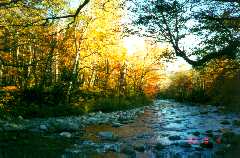 Lincoln Brook, Pemigewasset Wilderness
Near the Lincoln Woods Trail, October, 1998.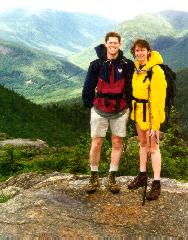 Crawford Notch from Mt. Crawford
On a cold and wet July afternoon with Paul and Susan. July, 1998.
Randy descending the steepest part of a steep, rocky trail. June 1998.

Mt. Flume, from Mt. Liberty.
May 1998.

Mt. Eisenhower and the Southern Presidentials
From Mt. Pierce looking north to Eisenhower, Franklin, Monroe, and Washington. July 1997.