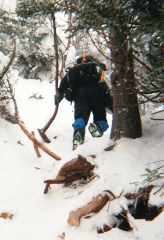 Lion Head Winter Route
To bypass avalanche danger around Tuckerman Ravine, an old, eroded path up Lion Head is used during the winter. You need to be comfortable with steep snow, steep rock, steep roots, and the occasional brown ice patch.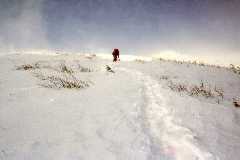 The Lion Head Snowfields
An exposed, windblown, desolate place, with the Lion Head itself in the distance.
High winds scour the summit, blowing tons of snow into Tuckerman Ravine.
We reached the summit two hours later, with 50 mph winds and a ground blizzard preventing us from enjoying the visit.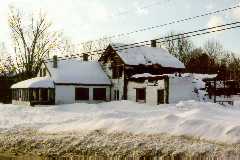 Contemporary Bosnian Architecture--Right in the Heart of New Hampshire!
The MITOC Intervale Cabin has some interesting neighbors, as this photo (taken on the way to the Tuckerman Tavern) demonstrates. I knew the Granite State had lenient gun laws, but it seems someone had too much fun with their howitzer.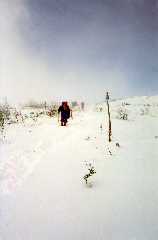 Treeline, below Lion Head
Once again, we hit treeline early, giving us plenty of time to navigate the summit cone. The sky was clear, but strong winds blew a massive plume of snow off the Alpine Garden.
The last sheltered spot before the exposed Alpine Garden, this area often experiences more wind and turbulence than the slopes above. Tuckerman Ravine lies to the right.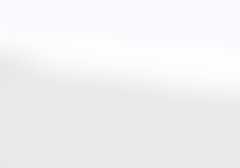 Whiteout on the East Snowfields
With rocks, scrub, and even cairns buried under unusually deep snow, we had nothing to see for most of the descent. The blowing snow allowed 100' visibility, but there was nothing to see within 100'. Lack of a horizon or any features beyond the toes of one's boots can be disorienting. (Note: this isn't really a photo, but it's exactly correct in every detail)
A view across the Notch to Wildcat Ski Area opens up as we reach Lion Head once again. It's 2pm, yet dozens of people are still ascending into worsening conditions.