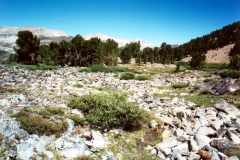 Glacier Canyon
After a quick ascent through the woods, the Glacier Canyon Trail crosses the high alpine meadows below the Dana Lakes. We got an early start after camping at 7,800' down in Lee Vining Canyon, avoiding the crowds at the Tioga Pass campgrounds.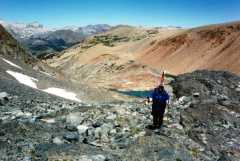 Ascending the Moraine
Ben reaches the top of yet another pile of broken rock.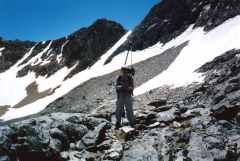 Our Destination
After four hours of scrambling, we reach our goal--Dana Glacier and the Dana Couloir. When will I start remembering to turn on the fill-in flash?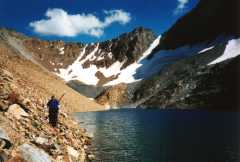 Dana Lake, Dana Glacier, Dana Couloir
Ben pauses at the end of a another brutal talus scramble to enjoy the amazing view. It was another three hours of scrambling back to the trailhead, but the experience was worth it.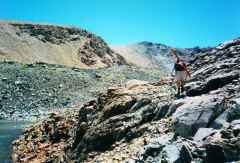 Talus, Scree, Talus, Scree
Above the meadow, the trail becomes less distinct and climbs over the moraines that hold back the various Dana Lakes. Despite the easy entrance to the canyon, the last mile to the glacier was quite a scramble.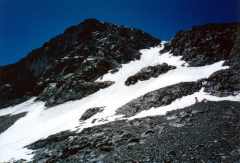 Solstice Couloir
Just west of the Dana summit, the Solstice Couloir provides a steep and exciting descent in good snow conditions. In these snow conditions, it provides a fast and efficient (and probably fatal) route to the canyon floor.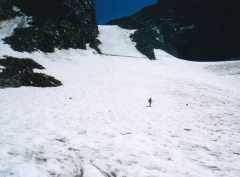 Ben Skis the Glacier
We took different routes to our turns. I dropped down onto the glacier, hiked over to the snowy Couloir runout, then hiked up and skied two runs on the glacier. Ben took the high traverse along the bergshrund to hit the full skiable vertical of the snowfield. The gaping 'shrund can be seen at the bottom of the Couloir.