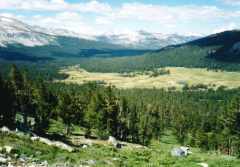 Dana Meadows
The path to Dana, an "unofficial" trail, begans at the Tioga Pass entrance to Yosemite. It's a congested area, but the avalanche-scarred slopes and the alpine beauty of Dana Meadows contrasts with the RV-coated pavement. By careful to stay east of the imaginary line created by the park boundary, though, or the rangers will yell at you.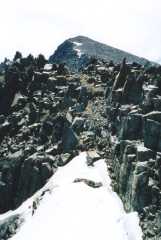 A Detour
Since it's only a "use" path, there are a few variations to the route. Choosing this one made life a little more challenging, but crawling rock-to-rock at the edge of a precipitous drop was wonderful. A light and surprisingly warm breeze out of the Mono Basin helped enhance the high-mountain feeling.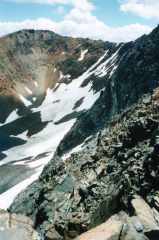 Glacier Canyon
Suffering a bit from a poor snow year. What an amazing 2,000' plunge to Dana Lake.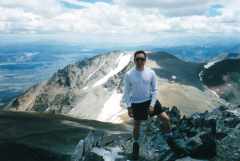 13,057'
Depends on which topo map you refer to, actually.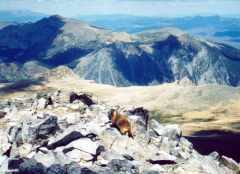 The Summit Interpretive Guide
A marmot of unusual size (as determined by unanimous vote of the folks on the summit) spends the better part of an hour staring at us and posing for photos.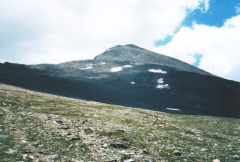 The Route
A very nice trail that's not a "trail." Reading Forest and Crag, I learned about early-20th-century divide between those who favored graded recreational paths and those who advocated only basic access to "interesting" terrain. The treadway-graders were sent west in the end, but this route proves there are still plenty of ways out here to enjoy the bones of the mountain without striking out cross-country.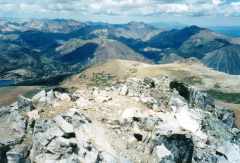 The Summit Approach
A rather chubby marmot shares the wonderful view back toward Tioga Pass along the final steps to the summit. Saddlebag Lake, site of many a summer skiing adventure, can be seen nestled in the mountains behind Tioga Peak.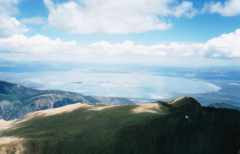 Mono Lake
A steep plunge from the Sierra Crest takes you to the alkaline waters of Mono Lake, once nearly sucked dry by L.A.'s water needs but now slowly recovering.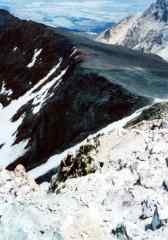 Dana Couloir
A classic ski descent to be explored later.