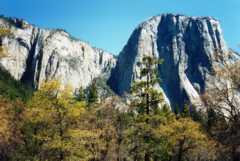 El Capitan
The big, bad block of granite looms over a scenic parking area in Yosemite Valley. The sheer face allows nearly 3,000' of technical climbing. This vista was acquired while searching for trailhead parking.



Yosemite Falls
Yosemite Creek plunges 2,500' to the Valley floor. As I took this photo, about twenty hikers, speaking three or four languages, marvelled at the view while suffering from dehydration and fatigue from the hike. Sneakers, jeans, and a 16oz bottle of YosemiteTM brand spring water aren't enough for a 3.5 mile, 3,000' hike. Luckily, few of those people followed me to the top! Note: the trail takes you to the top of the falls, letting you stand just to the left of the notch from whence the stream comes. Worth a five-hour slog in the heat? Yes.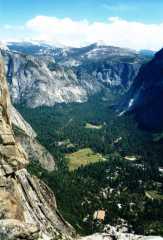 The Yosemite High Country
Looking east from Yosemite Falls. The Sierra Crest passes through the park from north to south, crossed at over 9,900' by Tioga Pass Road.



Tuolumne Meadows
Is there a more popular backpacker's trailhead? The last obstacle before reaching Tioga Pass.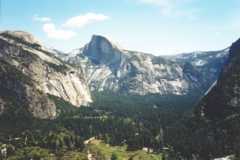 The Famous Half Dome
From a perch high about Yosemite Valley. Thousands of tourists attempt the Cables route each summer, and some actually make it! Once again, this photo opportunity presented itself as I climbed up the steep but well-groomed Yosemite Falls trail. About a mile in on the Yosemite Falls Trails, this first viewpoint across the valley attracted dozens of winded but appreciative tourists.



"Please, don't fall off a cliff."
A sign warns the adventurous but clumsy that falling into a rapidly-flowing stream just above a 1/2-mile-high waterfall is a Bad Thing.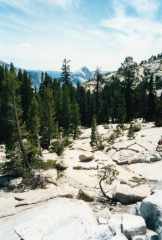 High Above the Traffic
If you want great views without walking, a drive up Tioga Pass road leaves the worst congestion behind. Olmstead Point is one scenic vista.