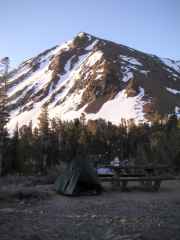 Sunrise at Virginia Lakes
Not a bad place to wake up after a six hour drive and a fitful high-altitude sleep. Care for a cup of coffee?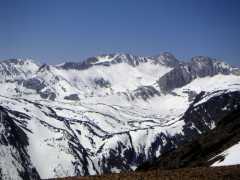 Lundy Canyon and Mt. Conness
From the top of the ridge, the view includes Mono Lake, Dunderberg, and the eastern mountains of Yosemite. Look closely to see East Bowl, GPS, Flinty's and other classics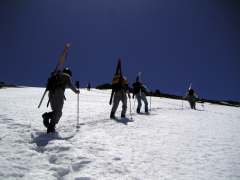 Second Lap
After a run down to the base of the upper bowl, the crew hikes back up for a second run as the sun cooks the northwestern aspects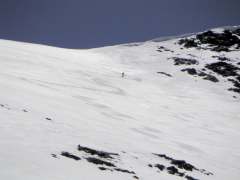 More Perfect Corn
Another teletipster gets it done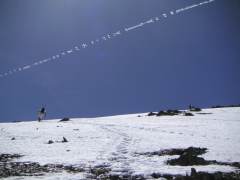 Bootpacking
After a late night around the campfire, we weren't in a big hurry Sunday morning. The hard corps drove south to ski at Tioga, while the remaining crowd went back for more. Here, Mitch leads us back up the ridge for a second day of turns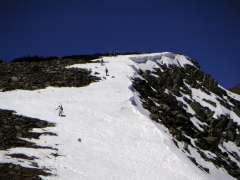 Black Mtn.
The more ambitious group heads to the summit of Black Mtn. for steeper lines. The rest of us dropped the northwest face once again, and finished with another traverse to the Black Mtn. chute.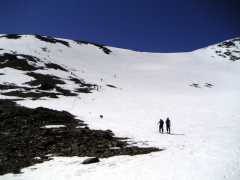 Black Mtn. Bowl
The Teletipsters climb to the ridge above the upper bowl, after an early-but-not-too-early start from our campsites at 9500'.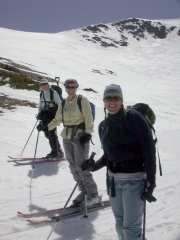 photo by Pete MacRostie
That's Good Corn
Jill, Jen, and I are clearly enjoying this.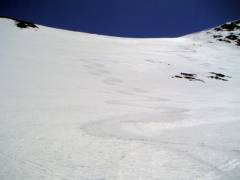 No Need To Share
While others head back to their first destination, I scoped out a field of firm, smooth, untracked snow. Then I tracked it up.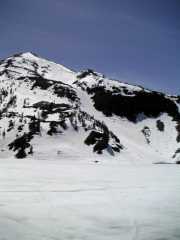 Home Run
We traversed west from the bottom of the bowl and found an aesthetic chute that returned to the lake.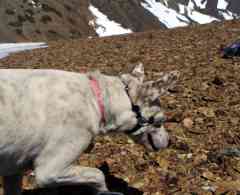 Doggles
Responsible Soleil uses eye protection.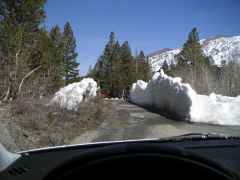 Snowdrift
Thanks to the needs of fishermen, we had access. Thanks, everyone, for an incredible weekend!