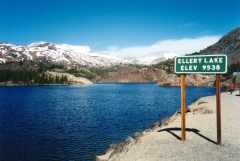 Ellery Lake
Highway 120 takes you through Yosemite and up to 9,990' at Tioga Pass. Just down the road is the beautiful roadside campground at Ellery Lake.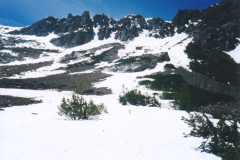 Ellery Bowl Chutes
Chute Out, Banana Chute, S-Couloir, and Poop Chute. The runout's a problem this late in the season, though.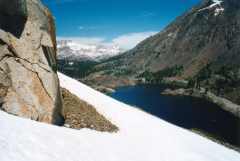 Skiing, Fishing, Hiking, Driving
Looking southwest toward Yosemite. A Memorial Day weekend view that includes the crowded Tuolumne, fisherman on the lake (note the tiny boat to the lower right), and traffic backed up at the Park gates.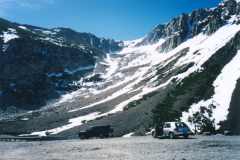 Easy Access
It's a long, 100' slog across a gravel turnoff and a metal dam walkway.



Lower Banana Chute
The runout includes a perfect spot for fly casting. I took three runs, going solo for the first, having a large South Asian family as an audience for the second, and getting a drunken cheer from fishermen on the lake for the third.