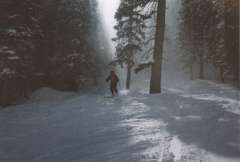 Two Bucks
One advantage of the ski week is that the instructor is also a guide. While most of the clientele practiced PerfectTurns(TM) on the groomers, we hiked for the good stuff, like this steep tree shot named "Two Bucks."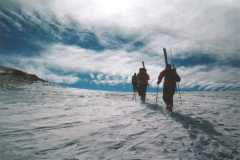 Altitude
Paul and Susan approach the crest of the ridge. Our guide, Josh Carlson, waits above.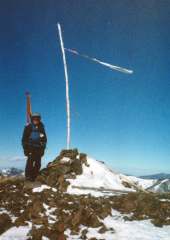 Kachina Summit
Off the west ride, one finds a serious of steep, steeper, and stoopid steep gullies dropping down into the trees. The upper sections are... committing.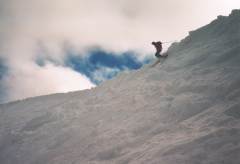 Huck Your Meat
Paul passes the final exam.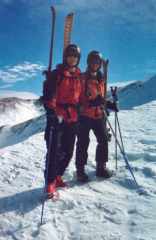 No Lifts
Hiking is an integral part of the Taos experience. Here, Paul and Susan carry their gear along the ridge toward Kachina Peak.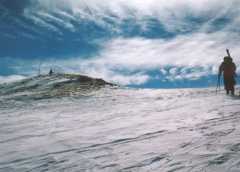 Approaching Kachina Peak
The summit of Kachina Peak (12,500') is scoured by the wind.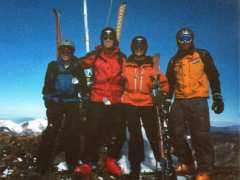 Our Group Lesson
Me, Paul, Susan, and Josh pose on the summit. From here, we skied the main face of Kachina and connected with groomers for an epic base-to-summit ride.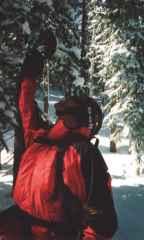 Slainte
We finished our ski week with a visit to the Martini Tree, where our favorite mixed drink is stored under the powdery Taos snow.