Ski Day 1: Is it a powder day?
We think there is sufficient snowpack for skiing.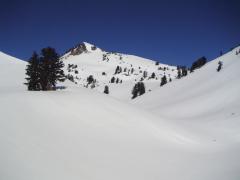 Powder day?
Sure looks like it.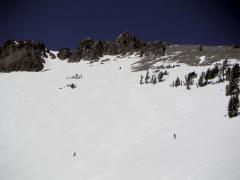 Skiing the Southwest Face
Paul and Susan enjoy the finest "rice crispies" wet corn snow.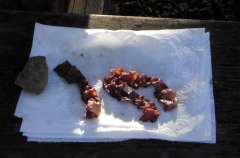 Ski Day 2: Bacon, for Life
We let other animals process and concentrate calories and nutrition for us.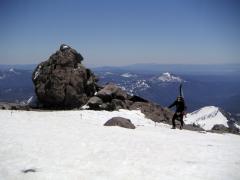 Paul arriving at the Lassen summit
The summer hiking trail was clear on the upper mountain, making for an easy, switchbacked ascent beyond the Southeast Bowl.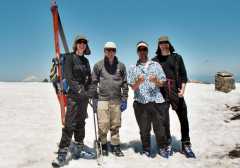 Mt. Shasta, Susan, Me, Rev. Loren, and Paul just below the Lassen summit.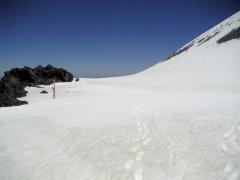 Northeast Saddle
A walk skiers' left of the summit cone leads to the top of the Northeast Face.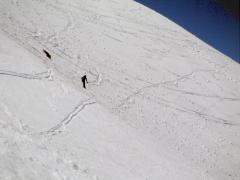 Susan drops into the center gully of the upper bowl, just below the summit.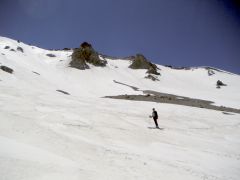 Northeast Bowl
Susan at the bottom of the steepest section.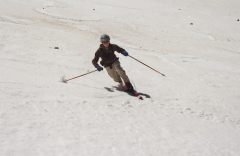 photo by Paul Rozelle

...and I skid to a halt. I'd injured two ribs in a fall about 1,000' higher up. Oh well.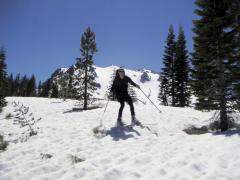 Suncups
Things get marginal below the bowl and the runout, but it's still skiable.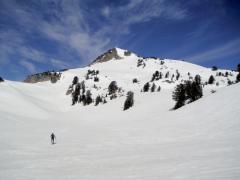 Ski Day 3: Touring to Eagle Peak
A nice, easy trip after two days of peak climbs.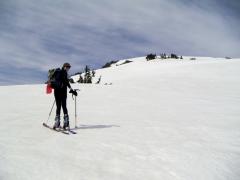 Eagle Peak Ramp
Susan skins up the gentle lower slopes.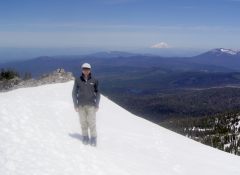 Shasta and Me
From the top of Eagle Peak.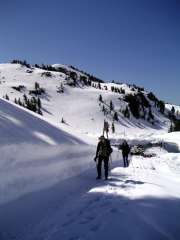 Upper Trailhead
Setting out just below the Southwest Face of Lassen Peak, with new snow and bluebird skies.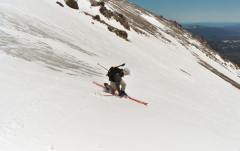 photo by Paul Rozelle
Dropping In
Here I set my edges in the windblown upper section of the Southeast Bowl.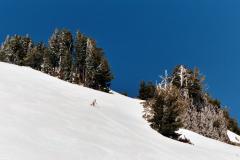 photo by Susan Rozelle
Carpark Turns
I cut up the powder just above the Southwest Face parking area.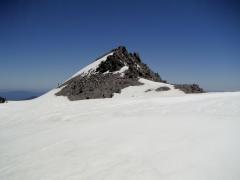 Lassen Summit
We avoided the large phallic object on the summit, but Loren climbed to the very top and dropped the steep summit couloir.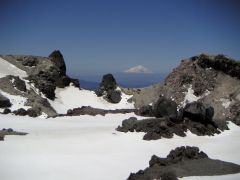 Mt. Shasta
Framed by the rim on the Lassen crater.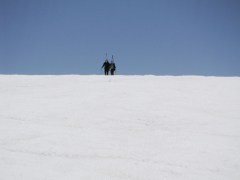 Still a powder day
Paul and Susan cross a deep drift on new snow just below the summit cone.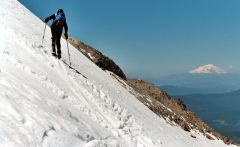 photo by Paul Rozelle
Northeast Face Headwall
Susan sets up for some steep skiing, while Mt. Shasta observes.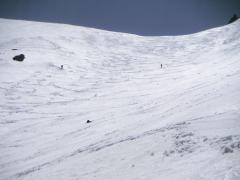 Northeast Face, Main Bowl
Paul and Susan add new tracks.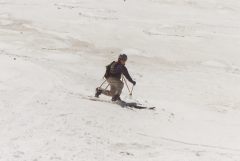 photo by Paul Rozelle
Pictures of ME skiing?
I make some turns across the bottom of the bowl.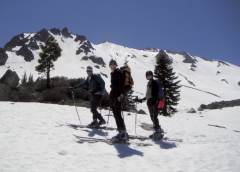 Boy, that sucked.
No, it didn't!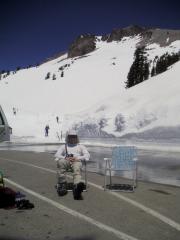 It's still vacation, right?
Back at the upper parking lot, I'm relaxing after a hard day's work.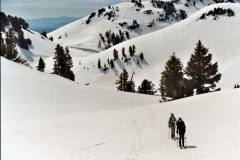 photo by Paul Rozelle
More skiing, less climbing
A gentle ascent across the valley separating Lassen and the Eagle-Diller-Brokeoff Ridge.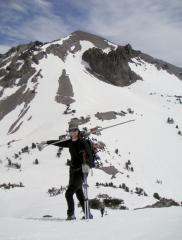 West Face of Lassen
With Paul, from the top of the Eagle Peak bowl.