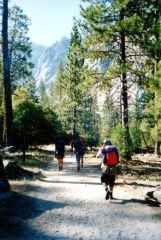 Road's End
The expedition starts with the usual National Park nature trail, 2.2 miles of flat, groomed sand through beautiful woods in between towering canyon walls.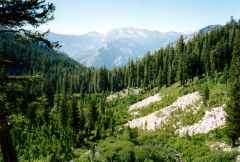 Sphinx Creek
After four or five miles of steep on-trail travel, the route leaves the trail and follows use paths up the Sphinx Creek drainage. Although many people take this route, some careful routefinding is necessary to avoid bushwacking and talus scrambles. DEET helps fight off the plentiful mosquitos, too.



Approaching Treeline
After a cold and damp night (camping by a swamp at 9,700' results in some serious freezing fog), the group split up. Two people decided to head back early, one person decided to go off on his own (story later), and four remaining hikers pushed ahead to the upper Sphinx Lakes.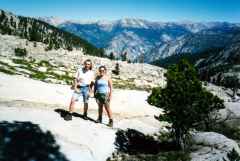 High Above KCNP
Alex and Shannon gain the last ledge up to Sphinx Lakes. Here, we set up our camp for the night at 10,500'.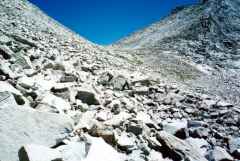 Sphinx Pass
About two hours above our high camp was Sphinx Pass. This was our limit for the day, but Mt. Brewer itself was about two miles and 1,500' beyond.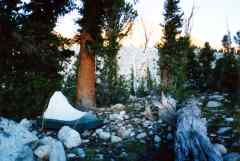 I Could Get Used To This
Our campsite at 10,500'.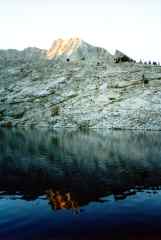 First Light on North Guard
Sunrise over Sphinx Lakes.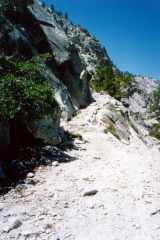 Sphinx Creek Trail
After about three miles of easy trail, the route heads up to the hanging valley holding Sphinx Creek. A thousand feet of steep switchbacks in the hot SoCal sun is a tough way to start the trip. Like many California trails, this path is groomed for pack animals, making it a bit too flat for heavy backpacking boots. Travel light!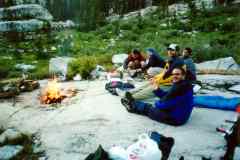 Camp One
After over seven miles and nearly a mile of vertical rise, we finally found a reasonable campsite at the lowest of the Sphinx Lakes. This was still quite a bit below our intended campsite, but fading daylight and tired hikers made us quit while we were ahead.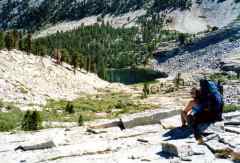 Lower Lake
Shannon rests, with a view of the lower Sphinx Lake below.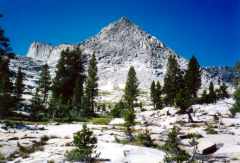 One view from the plateau.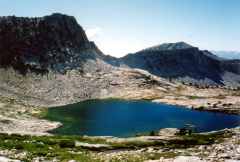 Upper Sphinx Lake
Once a new camp was set, we headed up toward Brewer. We realized it was too late to make the summit, but we figured it was worth checking out the route to see how far it really was. Here, we look down on one of the upper lakes in the Sphinx basin.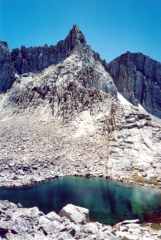 No Name
An unlabeled 12.5K'+ pinnacle looms above the pass and the highest lake in the Sphinx basin.