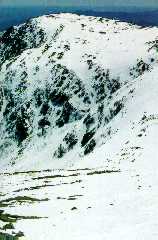 Over the Lip
The view over the Lip and Icefall from the East Snowfields of Mt. Washington. The fold in the center of the photo conceals Left Gully, while the gullies in front of that fold are the various lines of The Chute. Steep, eh? May 1999.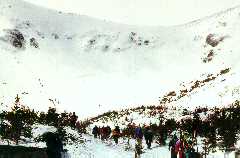 Skiers arriving in Tuckerman Ravine,
Mt. Washington
A cold but sunny spring day in the bowl. Two sliders got themselves mauled soon after this photo was taken, thanks to hard, refrozen-slush conditions that provided enough friction to tear clothing and abrade skin, but not enough to arrest a fall. April 1999.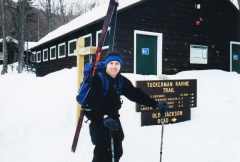 Pinkham Notch
Geared up for a day on the Sherburne. No more pictures from this day--triple digit winds had scoured the trail making for a brutal, yet memorable trip. February 2001.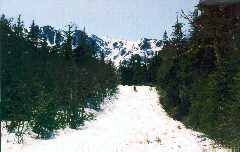 Descending the Sherburne Trail
Tuckerman Ravine to Pinkham Notch, Mt. Washington, with Hillman's Highway in the background. Expect groomed snow in the winter and slush bumps in the spring. May 1999.
Tuckerman Ravine, Mt. Washington. Steep, icy, scary, and fun. April 1999.