Alpine Marathon
February 16-22, 1998

Skiers: Matthew Reagan, Simon Karecki, Yoshi Uchida
---
How much can you see in six days? Pretty damn much, if you limit sleep and go without stopping! After years of discussion, Simon and I finally decided to go for it and visit Yoshi out at CERN. Two discounted tickets and two flights later, there we were in Switzerland!

The marathon vacation began immediately. To avoid dealing with jet lag, we decided to follow local time and treat day one like any other (full) day. We got a tour of the nearby French countryside (Pays de Gex), experienced our first Hypermarket, had coffee in Geneva, had a dinner of cheese balls at a country inn on the north shore of Lake Geneva, toured the CERN facilities, and then stopped off at a British-style pub for a few pints with a few physicists. Not bad for two folks who got about two hours of sleep on the flight over.

We certainly slept well that night. We got up a little late the next morning to head off to our first skiing destination: Chamonix, the Death Sport Capitol of the World.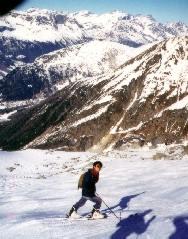 Snow has not been plentiful this season, so we chose the highest resort in the area, Les Grandes Montets in Argentiere (first photo to the right; click to see the full-size image). We zoomed up to nearly 3000m and surveyed the terrain. The entire area was above treeline, and the exposure was absolutely dizzying for someone accustomed to narrow, turn-here-or-die New England trails. The sun, unfiltered by even the slightest bit of cloud, beat down like one of the radient heaters used in the SCWO lab. The combination of heat, altitude, and being packed into a gondola at 125% capacity nearly knocked me out. The conditions were tough, too, with "on-piste" runs having a very Pocono-like sheen due to a month's worth of skids and stem-christies. Somehow, I survived the first two runs and stumbled out onto the bottom of the glacier. From here (first picture), things looked more interesting. We had moguls, steeps, and millions of tons of refrozen avalanche debris all to ourselves. It was tough skiing, due to sun-crust, hardpack, unrelenting steepness, and total exposure.
One bad thing about treeless slopes is that there's nothing to grab hold of if you start sliding. With crusty snow grabbing at your skis, you're asking for trouble. Simon had a nasty slide-for-life when one ski released at the worst possible time. I found him a few minutes later (after recovering from a slide of my own) as he crawled out of a pile of car-sized boulders. He had taken a pretty nasty smack to the kidneys as was feeling a little beat up, so we detoured to a slopeside restaurant to rest a bit. Once the adrenaline subsided, he realized how hard the collision really was, so we headed down to the village to search for a doctor.
Thanks to The Rock, we had a chance to see the French health care system. A visit to the Argentiere village doctor ruled out broken bones or external damage, but to be safe, the doctor sent Simon to Chamonix hospital to check for internal injuries. The hospital seemed well-prepared to deal with this sort of thing (it is the Death Sport Capitol of the World), and everything was taken care of quickly and efficiently. Plus, the view from the waiting room was impressive (left). As for Simon, ultrasounds were ordered to check for any serious internal damage. Thanks to this miracle of modern technology, we now have photographic proof that he has both a pancreas and a spleen.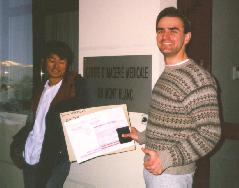 So Simon was fine, as the picture suggests (right). After a stop by the local pharmacy to pick up some happy pills, we stopped in Chamonix to grab a bite to eat before hitting the road. From Chamonix, we headed down out of the valley and followed signs to Grenoble. Unlike U.S. highways, the French autoroutes are not well signed, and exits are simply marked with the name of the village rather than information on what road you're taking. A sign to Albertville/Grenoble put us not on the autoroute, but on a narrow mountain road that mounted a high mountain pass on tight switchbacks. The little mountain towns were interesting to see, but wandering along a dark road late at night was a bit stressful. We returned to civilization at Albertville, found the autoroute, and sped along to Grenoble and an old and somewhat overpriced hotel room.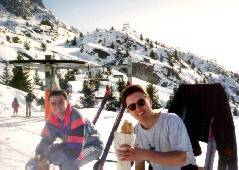 Our second day once again got off to a late start, but hell, we needed the rest. After a pit stop at the Grenoble Galleria (I think the proper term is "Commercial Center"), we drove off into the mountains to find Alpe D'Huez. This was a purpose-built ski resort, as opposed to the separate ski slopes of Chamonix. We snagged afternoon tickets and went exploring. The terrain, on average, was much less exciting than Grandes Montets, but the snow was certainly softer.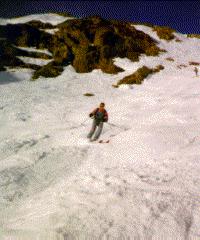 We traversed across the area, taking about a dozen leisurely cruising runs and soaking up the wonderful scenery. A chairlift malfunction stranded us temporarily, but rather than do any walking, we waited it out while enjoying a fine French lunch (left). An attempt to take our last run down the glacier was stymied by the late hour, but we still got in a kick-ass mogul run down a very cool chute below the glacier (right). We got kicked off the slopes at 5pm, and after a brief walk around the base village, headed back toward Grenoble. We got a scary lesson about French passing habits (anyhere, anytime, and recklessly) but avoided all potential collisions on the two-lane road to Grenoble. From there, it was back on the autoroute to Albertville. Thanks to the recent Olympics, there were plenty of hotels, and we found a 200FF room at the "Hotel Etap"--a Euro-style Motel-6 with pre-fab, modular rooms and bunk beds. After a quick unload and change of clothes, we searched for dinner in Albertville. It seems that Olympic towns are chosen for available space and ample funding, not for nightlife or ambiance, because this village was even quieter than Grenoble. Most of the restaurants seemed to be closed (7pm on a Thursday night?), and the streets were empty. We ended up at "La Savoisienne," a small corner place advertising fondue and local specialties. The fondue was indeed quite good, and we learned all the ins and outs of eating Savoyard fondue. The raw egg is the key. I'll explain later...
The third day of skiing got off to a good, early start, thanks to the alarm clock and efficient service of the Hotel Etap. We went all the way this time--right to Val Thorens, the highest ski area in Trois Vallees, the largest unified resort complex in the world. We parked at 2700m and went up, up, up, into an endless series of enormous snow-filled canyons.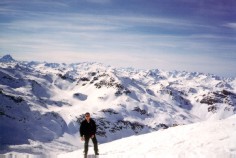 We took a few runs in a high bowl and meandered around rocks and gullies. Finally! Good snow! Then, we began traversing the resort in search of a run that the ticket-counter woman considered "Super" (say with thick French accent). We started at Val Thorens village, rode three chairlifts, traversed a ridge to the Meribel boundary, then skied down behind both resorts into a secluded valley. Glaciers and glacial cirques surrounded us on three sides, and only two lifts were visible to give us visual cues to the size of the area. A gondola lifted us to 2970m and the top of the largest glacier (left). We had a quick lunch gazing down at the rest of the Alps, and then tried each of the runs off the edge of the bowl. The snow over here wasn't that great (hardpack, granular, rocks), but the scenery made up for the loss of P-Tex. After a few runs, we continued our travels, heading down the valley to the below-treeline base village of Mottaret.
Down there (1800m), what little snow was left was melting fast. We stomped through the puddles and pushed our way onto a long Gondola that ascended back the the Meribel summit. Urrrrk. I sweltered as usual (Am I the only person who likes cooling off on a chairlift?), and even my usually chilled companions felt the heat as we cooked inside the unventilated plexiglas shell. After an unsuccessful attempt to find something to drink, we stumbled upon heaven: an enormous mogul field in perpetual shade! Perfectly shaped moguls unscathed by the hot sun or hordes of side-slippers. This one run was worth all 234 francs I paid for admission!
The trip back to the 2700m parking lot ws uneventful, although there were some crowded spots where inexperienced skiers had trouble with the soft, granular snow. An overly friendly dog (with overly irresponsible owners) greeted us at our car and made off with one of Yoshi's gloves. We traded an old, rancid sausage for the glove, and sent the animal on its way.
The rest of the trip was a rather painful blur. After a dinner break in beautiful and historic Annecy, we headed back to Gex and Segny to visit some CERN folks who were throwing a party. After soundproofing the house to ward off the Gendarmes, we spent a long night unwinding with bad French beer, good Irish beer, the abomination known as Jagermeister, and some nice Italian sparkling wine. Any chance of skiing in Switzerland on Saturday was quickly eliminated.
Saturday began around 2pm with a toast of Alka-Seltzer and a late lunch. Since everyone has off for lunch, including restaurant workers (it seems), we stopped off at McDonalds for those all-American classics: "Royal Cheeselovers" (a Quarter Pounder with actual cheese) and "Crusty de Fromage" (Cheese McNuggets). The best part: the Kronenburg tap next to the soft drink machine (is beer an option in the extra-value meals?). After another brief attempt at sleep, we took one more tour of Geneva, experiencing some of the most interesting nightlife the city has to offer. I was only partly conscious due to lack of sleep and a nasty head cold, so I'll let someone who remembers report the results.
Then, two more hours of sleep and off to the airport. Who would have thought that sleeping on a DC-10 could seem so comfortable?
photos by Simon Karecki and Matthew Reagan
---