Mt. Adams via King Ravine
September 29, 1996

Hikers: Matthew Reagan, Randy Weinstein
---
An ascent of Mt. Adams via King Ravine (Air Line to Short Line to King Ravine trail) is one of the most strenuous day hikes I've ever experienced. From the Appalachia parking area, the route winds up a moderately-graded but rocky trail to the floor of the ravine. The usual route involves several trail junctions, using the Air Line and Short Line trails to connect to the King Ravine trail just below Mossy Fall. A few nice cascades provide sightseeing stops along the way. Once in the ravine, however, things become more difficult.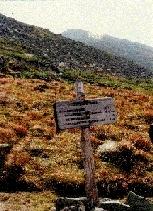 The trail into the ravine is well described at the White Mountains Server, with nice photos of the upper ravine floor and headwall. The trail passes over, around, and sometimes under those large boulders! The ravine is filled with such rocks, some human-sized, some car-sized, some house-sized. A good bit of scrambling and climbing is required to cross the ravine floor, and all that effort doesn't gain you much altitude. Two side paths branch off before you reach the headwall. One called the "Subway" takes you through a few hundred yards of narrow boulder caves (a narrow pack and a rope come in handy here). At the foot of the headwall, the Ice Caves side path takes you through another series of deep boulder caves beneath the shadow of the ravine. Snow and ice can be found here year-round. Beyond this point the trail ascends straight up the headwall, attaining the 5000' mark in less than a mile of trail. The reward for this effort is a spectacular view of King Ravine and Durand and Nowell Ridges, and a view of the rest of the Presidentials once the plateau is reached. The first photo gives a view of the alpine plateau just above the lip of the ravine, with Mt. Jefferson in the background beyond the col and trail intersection known as Thunderstorm Junction.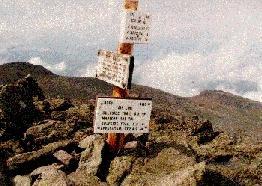 The last photo is my take on the familiar Mt. Adams summit signpost (5798'). In the distance, a few clouds pass below the edge of the plateau. Nowell Ridge heads away and down in the distance. The weather this day was cool and breezy with occasional clouds and drizzle, but we had a few clear breaks on the summit before a larger rainstorm moved in. A planned side-trip to Madison Springs Hut was cancelled as thunder was heard in the distance. The trip down the knife-edge of Durand Ridge was spectacular as the thickening fog reduced visibility to only the narrow path we were travelling.
For our return trip we chose the easier and better-graded Air Line trail down the remainder of Durand Ridge. The thunderstorms never materialized, although we did experience some heavy showers just below treeline. Of course, it was dry and sunny back at Appalachia.
Photos by Matthew Reagan
---