Climbing Southern California

Spring Break '99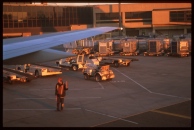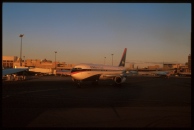 <--Click on any image
Boston
On some dreary evening sometime in mid-February, an e-mail from my long lost friend Steve appeared popped up in my mailbox. 'We are going to Joshua Tree this spring break, want to join us?' Given that I was at the time looking for any decent excuse to get out west, and that I had not yet even started planning my spring break, the opportunity was heaven sent. After about a month the whole thing snowballed, and all of the sudden a bunch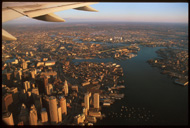 of MITOCers were headed out to Southern California. The day before departure I decided that I did not like my late morning ticket to Ontario, CA, so I got myself up before dawn to try and join Stephanie on her 6 am flight. Fortunately the plane was mostly empty, and standby tickets were easy to be had. The early morning in Boston was sunny an gorgeous, and I felt almost sorry to leave as the plane taxied out to the runway. After takeoff the familiar sight of downtown and MIT Campus beckoned as the plane began its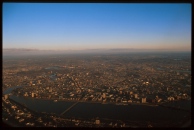 long journey west. After watching some some beautiful cloud formations and an airplane that crossed our course at an angle at a distance decidedly to close for comfort we landed in Dallas/Ft. Worth, and then proceeded to Ontario, CA. Predictably, the weather there sucked, with thick low clouds and a steady drizzle. Matt and Brad arrived an hour after us and we proceeded to rent a car for our expedition. After some fretting about the car size (No, we can't get a compact...) we decided on an ugly-but-functional Ford Taurus stations wagon. Having loaded it to the gills proceeded to meet the rest of the crowd at Idyllwild, raiding a Taco Bell or two on the way.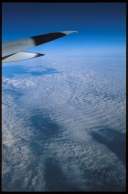 San Bernardino NF
At the end of March, Idyllwild is a sleepy little town located in the heart if the San Bernardino National Forest, south-west of Palm Springs. Apparently the sleepiness vanishes later in the year, as hordes of tourists descend on the town and triple its populations on some weekends. Located in such a gorgeous area, the town is apparently experiencing a king of real estate boom, with real estate agencies cropping up every yards in the town square. From the town, Tahquitz and Suicide climbing areas can be seen on the slopes of surrounding mountains.
Sun and clouds play with shadows in the San Bernardino Mountains.
Having arrived at the local state park's campground, we met up with Steve's group, and played cards until we were falling asleep, aided by three hours of jet lag. For some reason most MIT students seem to be living on California time anyway, so our sleeping times do not require any adjustment to be perfectly normal when we actually end up going there. This may be the reason why so many MIT graduates move west right after graduation. Hmmmm....
A few words about the climbing area. Tahqitz (the Trough) was one the first technical climbing areas in North America, with quite a few early climbers cutting their teeth here before heading off to Yosemite for greater challenges. The first few routes were put up in 1936, by men wearing tennis shoes and using hemp ropes. In the 50s one of the first 5.9 in the US was put up at Tahquitz by Royal Robbins, the Open Book. The YDS (Yosemite Decimal System) used for rating climbs, was actually first developed at Tahqitz by Robbins and Don Wilson. Suicide Rock was 'discovered' to be climbable in the mid 60s, and was found to feature some amazingly tough routes, with the 5.5 grade climbs being the descent routes for for much harder climbs.
The following day all the advanced climbers decided to ascend some cool routes up Tahquitz, while the rest of us not-that-experienced fold hiked up to Suicide rock, reasoning that a smaller cliff would be much easier to climb. Well, there is a reason they call it Suicide. Our approach on this first day of climbing turned out to be a two hour mix of bushwhacking and scrambling in an effort to get to the easier routes on the north face of the cliff. Once there, we were greeted by a largish patch of snow on the ground right under our climb. The climbs themselves proved to be excellent. I led my first trad 5.7 'Yours', and discovered that that takes a lot more guts and skill top roping a 5.9. So even though I managed to make my way to the belay ledge without falling, I gladly accepted Matt's offer to follow up his rope on a 5.6 (Graham Crackers?) Brad flew up Graham Crackers with ease and grace that belied his earlier none too confident statements about his climbing abilities. We called it a day after this two pitch climb, making it to the cars just before dark and hanging out in a hamburger joint until we were kicked out. By that time we had decided on routes we were going to try on Tahquitz the next day.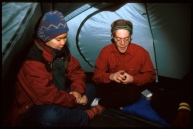 Card game in the tent. Cooking at night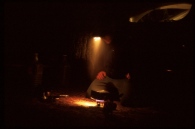 Suicide Rock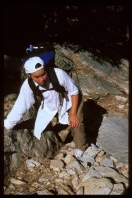 Hmm..this does not look like the normal approach route.
The only photo I have from our climb at Suicide.
Tahqitz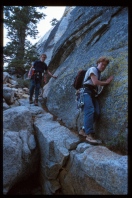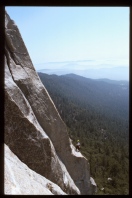 Climbing Tahquitz was probably the most irresponsible thing that I have done lately. Try, at the time I was doing 5.10's in the gym and 5.9s on local crags, so a simple 5.3 seemed easy enough. But the comparison between a 40 ft climb in a gym or local crag and a multi-pitch trad climb in a 500 ft exposed face cannot be expressed in numbers. Not to mention this was my fourth traditional lead ever... anyway, I am happy to have done it, and I am glad that Stephanie was tolerant (or foolish? :) enough to follow me up. Around noon Steph and I started climbing Fingertip Traverse, one of the first three climbing routes put up on Tahquitz in 1936 by Bob Brinton and Art Johnson. Matt and Brad went off to climb Angel's Fright, another classic 5.4, and we agreed to meet at Lunch Ledge at around 3 pm if the climbing went well. 'No epics, please.' was the motto of the day, and we intended to adhere to it. We climbed with little difficulty, as the climb was not much harder than the advertised 5.3, except for the exposure factor. Thanks to fellow climbers on a climb across from ours I managed to not get lost on a tricky section of the route. The fingertip traverse itself proved as exhilarating as advertised, and we made it to Lunch Ledge around 3 pm, without meeting Matt and Brad. From lunch ledge, the top of the cliff promised to be one full pitch away.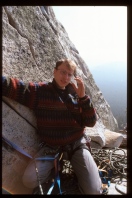 I had secretly hoped for Matt and Brad to beat us to lunch ledge so that I could follow them on this slightly harder section. However, with them nowhere in sight, Steph and I decided to top out ASAP. Being conservative as usual, I thoroughly protected the first 30 feet of the climb off the ledge, and in the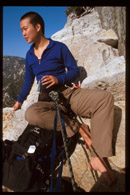 process caused such a huge amount of rope drag that I had to set up a hanging belay in a fairly uncomfortable spot. Steph followed up half an hour later, having vainly tried to extract a brand new Alien SLCD that as part of the anchor had worked its way into a narrow crack and refused to budge. Another exciting pitch, we topped out, just in time to watch the sun set... oops. We knew the descent route was on the other side of the cliff, and involved traversing over the very top of the mountain, which involved quite a bit of scrambling on exposed ledges, with potentially dangerous drop offs. Neither of us had been here before, and after establishing that the scrambling was not trivial with only flashlights, we decided to spend the night on the top. The night started out warm, but turned chilly as soon as wind begun to blow.
We sought out progressively more and more sheltered caves among the boulders on the top, finally finding a decent one and plugging most of the holes with gear that we brought. In the process we discovered that old English muffins make excellent hole plugs. Around 3 am faint yells from the base of the cliff announced the arrival of a rescue party. After finding out that we are OK, they decided to wait until the morning to meet us at the top of the mountain and lead us down. Around 5:40 am Steph and I watched a beautiful dawn break, and proceeded to scramble to the top of the cliff and meet the rescue party.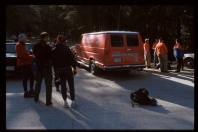 In daylight, the route to the top and the descent route were fairly obvious, and we felt foolish to have to be rescued from a walk-off. On the other hand, I was extremely glad to see the rescuers and have them guide us down. In the end, all of the parties concerned were happy that we were alive and healthy. It turned out that Matt and Brad never made it to Lunch Ledge, having gone off route at some point. During their efforts toe get to camp - I had the car keys - they met a concerned local who called 911. Steph graciously put up with me throughout this epic, but was understandably glad to see Steve and others from our group. Having done enough damage, our group took of for Joshua Tree NP.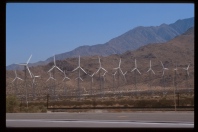 Windmills along I-10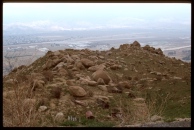 Joshua Tree National Park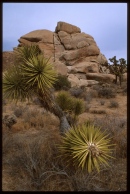 After braving the night at Tahquitz, Joshua Tree seemed like a nice walk in the park. A vertical walk in the park. The climbing here is primarily single pitch, with most of the climbs involving scaling huge boulders. One major exception is the Saddle Rock at Sheep's Pass, which features some beautiful multi-pitch face climbs. Here is also my favorite route of the entire trip, the Walk on the Wild Side, a three pitch 5.7 that Chris, Sarah and I climbed one evening, and that managed to completely and permanently improve mood the foul mood I was in for most of the day. Although certain climbers tend to say that the only reason to climb out West is for the cracks, I found crack climbs painful. On the other hand, balancey face climbing was quite enjoyable. The meandering pitches of the Walk on the Wild Side offer some of the most spectacular, exposed, and fun face/slab climbing at JT. Well, I suppose cracks must be an acquired taste :-)
What follows is a gratuitous series of photos, which may end up telling the story of how beautiful the desert can be, and how relaxing a vacation this was.
Joshua Trees - the namesake of the park.
Joshua tree forest during daylight...
...and up close and personal.
But there is life beyond Joshua trees...
| | | |
| --- | --- | --- |
| | One example of desert life, in this case trying to frighten the photographer. The missing leg had nothing to do with the photographer. Cactus thorns and fleece were not meant to mix. | |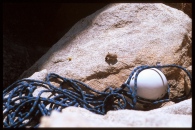 Mice like M&M's.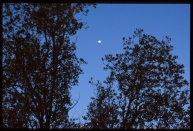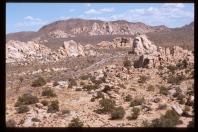 Hidden Valley campground. Pretty representative of the Joshua tree landscape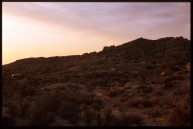 Jumbo Rocks Campground.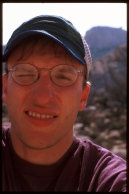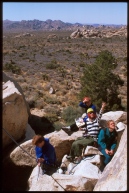 Finding climbs was a half the fun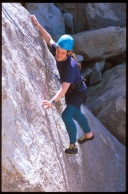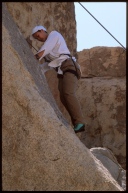 Stephanie climbing her first 5.9 (The Kid), which she did flawlessly. Matt on the same climb.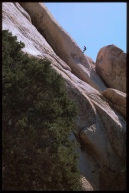 Julie rappelling off The Kid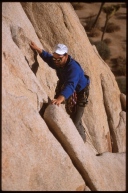 Steve on Intersection Rock.
| | |
| --- | --- |
| Brad on famous hard boulder problem near the Hidden Valley campground. The rock features are unbelievable. | But some climbs are easier than others |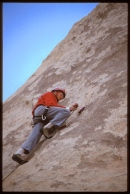 Chris leading a climb at Sheep's Pass.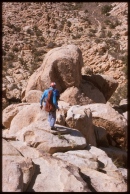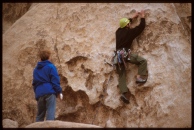 Dave leads a 5.8 at Sheep's pass. The start was way below where Brad is standing.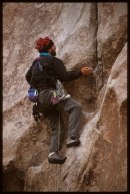 Steve on some obscure climb(??)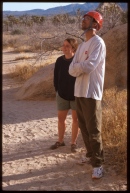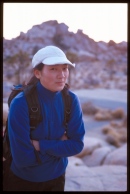 The omnipresent Hector. Accept no imitations. Julie wondering why the hell I am taking a picture of her.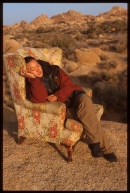 Stephanie taking a break pondering the meaning of life and the presence of Lazy Boys armchairs in the middle of the desert.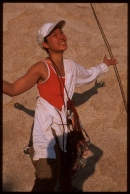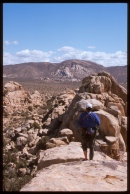 The obligatory shot of Steve
Water is important in the desert. Period.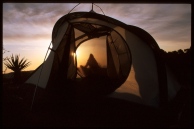 A typical morning, 6 am. How can you even think of sleeping...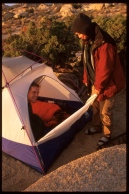 Stephanie wins the early riser award yet again.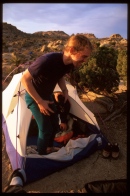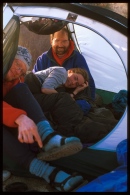 A crowded but cozy tent.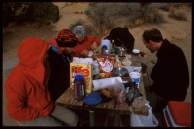 A hearty breakfast at 7 am or better... followed by a planning session. To make the breakfast more entertaining to us novice climbers, Dave managed to sing the entire Climber's song by heart, and double pace.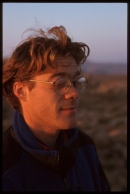 Brad looking alert at sunrise.
Wonderland of Rocks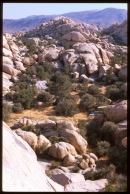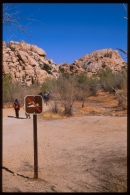 No swimming in the desert. Sad but true.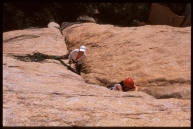 The Angry Arab, Nomad Dome, Wonderland of Rocks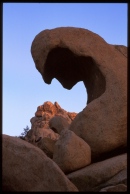 The head of a large beast in part explain why this place is called the Wonderland of Rocks.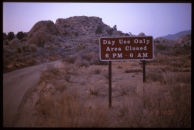 This photo made it as a background on several people's workstations in my office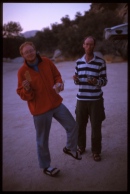 Chris and Dave recounting the climbs of the day after a long day in the Wonderland of Rocks.
Find four former MITOC presidents in this picture. The fifth escaped unscathed.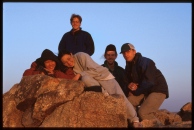 After a week in the desert, the final sunrise group photo.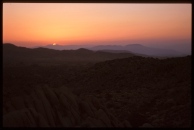 Our last sunrise in JTNP.
---
Scratchbook | Main Page